The high degree of conformity and harmony achieved between the pursuit of consumer value and product style under the traction of Chinese Confucian culture is the essence of Jianghuai Pinnacle
Recently received a lot of calls, everyone is concerned about when the Jianghuai Bin Yue sedan market? Here, I would like to reiterate that listing is only a matter of time. For Jianghuai cars, the most important issue at present is what we should solve first. In my opinion, it is not a product, not a listing, but a strategy.
Ask you a question first, what is JAC? Jianghuai built the factory in 1964. We know that FAW was the first to build the plant, followed by Jianghuai, and even Dongfeng was behind. In other words, JAC is in the first camp in the history of China's auto industry and has had a history of making cars for 44 years.
The second question that needs to be answered is: What can JAC do now? JAC now has 200,000 commercial vehicle production capacity, whether it is heavy trucks, light trucks, micro-cards, MPVs, or SRVs. The current situation is not bad. It is not the second or the second in the market segments, and it is at least the top three in the industry. What does it mean to be a car in this context?
This means that compared to Geely, Brilliance and Chery, we do not need to earn money to drive JAC by car. On the contrary, if the car industry is worth doing, we can use part of our profits to make strategic investments. Therefore, we have done a very calm, as long as the product is done, the channel is done, after the sale is done, JAC sedan is also ready, otherwise we would rather not do it.
I firmly believe that as long as we do not make mistakes in strategy, the final success is inevitable. Many people also asked me how many vehicles will be sold this year. I do not think that this year's goal is focused. The emphasis is on our channels and policies. If these are all ready, how much is sold will be the inevitable result.
We invested 2 billion yuan to operate the JAC sedan. We have been preparing for 44 years. We have been reluctant to pass through the road that others have not gone through, overcome the difficulties that others have not overcome, and have received grievances that others have not suffered, and finally succeeded. Depending on our operations in the terminal market, that is, what will we feel for our customers? And the feeling of success or failure in such decisions is often the impression they give them in a minute or two.
Looking back, what is our product? In terms of the big concept, it means "integrating global resources and building a world car." Is this an empty phrase? of course not. Now everyone is talking about integrating global resources, but how many companies really do? How many more companies can truly put R&D platforms in the countries, regions, or cities of the world's automobile originators? JAC sedan is one of the real manufacturers. We set up a JAC Italian R&D Center and a JAC Japan R&D Center overseas. Among them, the former mainly undertakes the design of JAC sedan products, and the latter is mainly responsible for interior design.
Objectively speaking, using advanced international concepts and technologies and using Chinese elements to create a good car that satisfies the inner needs of consumers is a strategic development strategy for the JAC sedan. The implementation of this strategy is Italy. The Bin Yuet Sedan is a JAC Italian R&D center with many senior Italian designers, and is a Pennsylvania company known worldwide for its Ferrari design. It uses internationally advanced design concepts and combines the characteristics of China's own brands to create a unique product.
Italy is a country full of artistic temperament, rich in the world's top class designers, the shape of the vast majority of classic cars are from this, the pinnacle of the Ferrari. The products bred in this cradle, carved out in this atmosphere, are not surprising in the industry.
The golden mean traditions have been circulating for thousands of years, "subconsciously a collective unconscious." The designer of Jianghuai Pinnacle transformed this unconscious consciousness into a conscious behavior, captured this idea keenly and absorbed the concept of "appropriate, appropriate and coordinated poles" into the JAC sedan at the same time as learning from the classic elements of the 100-year automobile industry. Design.
Next, whether or not Bin Yue can be very sophisticated, it depends on Jianghuai's capabilities—manufacturing ability, production consistency, quality ability, supply ability, and so on. In this car, there are some suitable configurations. We do not take the short cuts of technology and cutting costs. Stressed that one end will inevitably lose the other. What we emphasize is "the way of the golden mean". How to follow this general cultural psychology and thus deduct to deepen the product brand of Pinnacle, this is where we work hard.
The regular classic design of the Bin Yuet sedan and the modestly applicable combination of the golden features reflect the meticulously structured inner world of its own brand designers and consumers. The harmony between the demands of consumer values ​​and the product style under the traction of Chinese Confucian culture is the essence of Jianghuai Pinnacle.
Iron Shielded Deep Groove Ball Bearing is one type of ball bearings. shields are non-contact metallic (carbon or stainless steel) devices which allow high-speed operation but offer limited protection against the ingress of moisture and dirt. but do not protect against liquids. They add no friction during operation and therefore do not generate heat build-up. Iron shielded deep groove ball bearings often have steel shields installed on one or both sides and are pre-lubricated with grease. While many different retainers are available, pressed steel cages are most commonly used.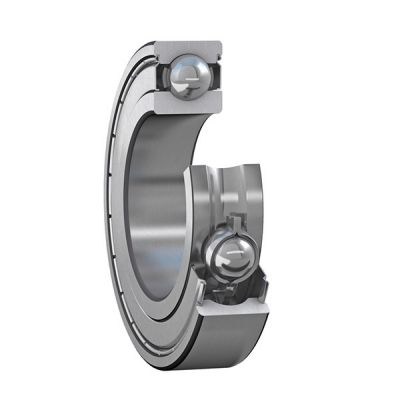 Bearing dust shields have been available almost as long as ball bearing itself. Shields are needed to stop the grease lubrication used in these bearings from leaking out. This is particularly important in applications where grease leakage may contaminate the product. The main impetus towards shielded bearings comes from the growing use of [sealed-for-life" bearings in items such as white goods, cars and power tools. Shields are fitted in the outer ring and do not make contact with the inner ring, but form a narrow gap with it.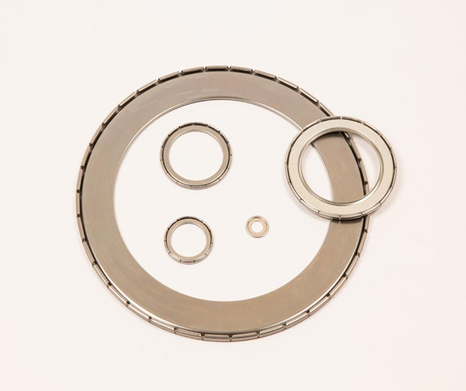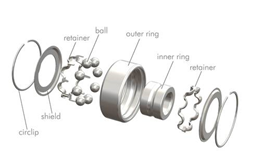 Depending on the bearing design, series and size, MANU supplies shields in different designs.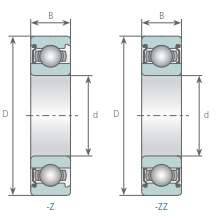 With one shield (-Z) on one side or two shields (-2Z/ZZ) on both sides; Due to the manufacturing processes used, open bearings can have turned recesses in the outer ring for shields.
Celarance:
Internal clearance provides the bearing room for expansion between the bearing races and will add a small amount of play between the two rings. Large clearance C3/C4 usually used in harsh environment. with good anti-seize performance used in particularly harsh environment.
Tolerances
The standard version of our single-row deep groove ball bearings has the tolerance class P0
(designs with tighter tolerances available upon request)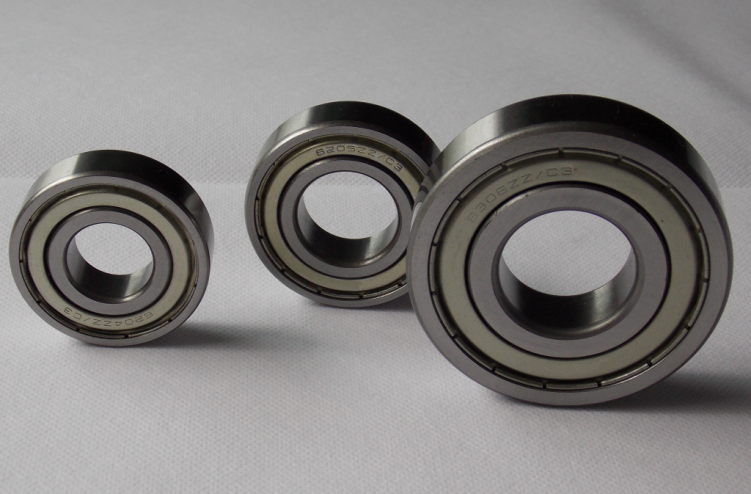 To be the first class, to do the best quality, to make users satisfied, to ensure customers relieved, are our enterprise purposes. Welcome bearing dealers` and Conveyor Idler manufacturers contact from all over the world, and become our partner.
Iron Shielded Deep Groove Ball Bearing
Iron Seals Ball Bearing,Iron Sealed Ball Bearing,Iron Shielded Bearing,Steel Shielded Bearing
Shandong Xinkaite Bearing Co., Ltd. , https://www.idlerbearing.nl