On August 23, the unveiling ceremony of Anhui Jianghuai Navistar Diesel Engine Co., Ltd. was held in Beijing. The move marked the official establishment of a joint-venture engine company established by JAC and Navistar, and it took nearly 4 years to prepare and prepare for the event. Make substantial progress.
Jiangjin Huai Automobile Group Chairman An Jin, Jiang Auto Group Consultant Zuo Yanan, Navistar Asia Pacific President Troy Clarke, Anhui Jianghuai Navistar Diesel Engine Co., Ltd. General Manager Joeworth, Anhui Provincial Government Leadership and Related Department Leaders Attend the unveiling ceremony.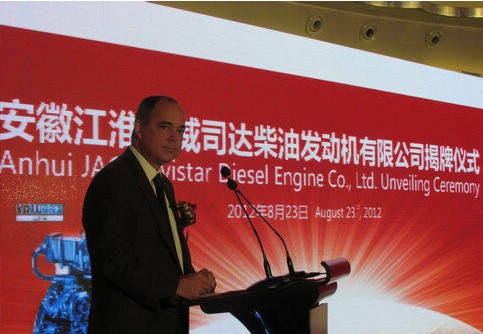 Chairman An Jin said in his speech: "JAC and Navistar have many places worth learning from each other in terms of automotive engines and vehicle technology. There are also many similarities in business philosophy and corporate culture. Our cooperation reflects The spirit of mutual benefit and win-win progress.With the deepening mutual trust, the pace of our cooperation will not only remain on the introduction of the engine. When both parties inject the engine technology into the joint venture, they will gradually extend the cooperation to the joint development of the engine. In the areas of heavy-duty trucks, school buses, and truck manufacturing and marketing in South America and North America, our cooperative relationship will develop in a long-term and close direction with broad prospects."
According to reports, the engine joint venture currently includes four engines in the production plan, including 2.8 liters of JAC and 3.2 liters, 4.8 liters, and 7.2 liters of three diesel engines introduced from Navistar, and a new generation of small engines and large ones that will be put into production in the future. The horsepower engine is also in the concrete plan. An Jin said that due to a lot of preparatory work done in the early stages, the engine localization rate for the first phase of production could reach 60%, and it will reach 100% after two years. He said: "These products have been fully tested in the international market and can meet the higher demand for diesel engines from JAC commercial vehicles. The new plant is scheduled to be put into operation by the end of next year, and JAC's trucks will soon be equipped with a more powerful heart. The new company's The normal operation will speed up the vertical integration of the vehicles and parts of the JAC, which will help to create a full range of trucks that are more cost-effective, superior in quality and internationally competitive. The 13th Five-year and even longer-term development plans are of great significance."
Joevos told reporters at the unveiling ceremony that the joint venture company's new plant and R&D center in Hefei, Anhui Province, has broken ground. The new plant is designed with an annual production capacity of 150,000 engines, and the maximum production capacity is expected to reach 200,000 units, providing 1,500 to 2,000 jobs.
Aluminum Alloy Housing Bracket,Aluminum Bracket,Huawei Aluminum Monitor Housing
Light Housing Co., Ltd. , http://www.nsadiecasting.com