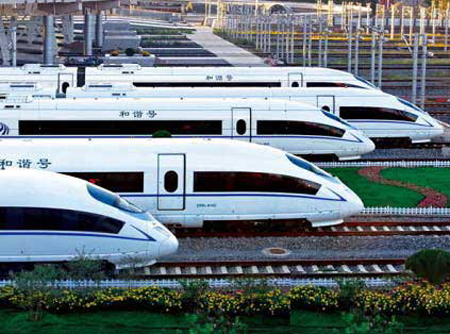 As the high-speed train bearing field for high-speed rail components, international giants such as Sweden SKF, Germany FAG and Japan NTN are firmly occupying the Chinese market. As soon as possible to solve the high-speed bearing R & D and application of the problem, this piece of "small and important" short board, has become a major task of China's bearing industry.
Short Board: High-end Insufficiency Compared to the fact that our country already has high-speed EMU technology with independent intellectual property rights, the domestic application of supporting bearings is still blank. This is a short board for the high-end equipment manufacturing industry.
On October 26, 2010, the CRH308A new generation of high-speed train EMUs with independent intellectual property rights had a maximum speed of 416.6 kilometers per hour, setting the world's highest operating railway test speed. However, the bearing used on this "land flight" could not be produced in our country. The Secretary General of the China Bearing Industry Association pointed out that EMUs with speeds over 160 kilometers per hour and all high-speed rail bearings are all made with imported bearings, and achieving domestic alternatives is bound to go through a long process.
In 2009, the output of the bearing industry in China reached 10 billion sets, and the total output value has reached 90 billion yuan, ranking third in the world. There are 1750 enterprises above designated size, of which 5 have annual sales of more than 3 billion yuan, but the import and export deficit exceeds 800 million US dollars.
This situation has improved in 2010. In 2010, the industry's sales increased by approximately 30%, output increased by 13%, exceeded the pre-crisis level, exports increased by 50%, and the import deficit narrowed to between 500 million and 600 million U.S. dollars. However, the composition of imported bearings remains unchanged. High-end development.
"The core technologies in this field are all overseas. Our industry has joined forces with common technology research and key technology public relations. It has already passed two five-year plans." He said, "The key areas of the 16 major technical equipment proposed by the State Council are 15 All bearing-related, this is the key point."
In the "Implementation Plan for the Revitalization of the Mechanical Basic Components Industry" issued by the Ministry of Industry and Information Technology, bearings were also ranked first among the basic components. Bearing products of the seven projects were included in the implementation plan for 2011-2013.
Feast: Foreign Capitals In the total high-speed railway investment, the capacity of high-speed rail bearings is not too large. Experts estimate that the market exceeds 2 billion yuan. However, the gap in China's domestic products is already enough to provide a huge market space for foreign giants.
According to incomplete statistics, nearly 80% of the world's bearings are produced by 8 multinational companies, distributed in the United States, Japan, and Europe, and China has about 6,000 registered bearing companies. The total sales of the top ten bearing companies account for only Nearly 40% of the industry's share of the industry, the industry concentration is low.
On February 6, 2009, NSK Corporation of Japan cooperated with China South Locomotive Group and successfully signed the order of axlebox bearings of 30 groups of Wuhan-Guangzhou high-speed railway.
In March 2010, Sweden's SKF announced that it would renew the four-year contract with the Chinese Ministry of Railways on the basis of the original four-year contract.
In October 2010, Japan's NTN established the largest production base in China in Nanjing. In the first phase, it invested US$100 million to build a production base for bearings used in high-speed railways, subways, and wind power generation.
Huang Zhi, deputy general manager of SKF's China Railway Business Department, pointed out: "Bearings account for only a small part of the entire vehicle configuration, but high-speed rail products can't tolerate any slips. The most important thing is the reliability and safety. "He also admitted that China's high-speed rail bearing market has left more room for foreign-invested manufacturers because of the shortage of state-owned products," enough to last until 2020.
According to the National Medium- and Long-Term Railway Network Plan (Adjusted in 2008), by 2020, China's high-speed railway mileage will reach 18,000 kilometers, which is three times the sum of the high-speed railway mileage of Germany, Japan, and France. . By 2012, the total mileage of China's high-speed railway will reach 13,000 kilometers, which will create 800 new demand for EMUs.
Catch-up: Self-tacking "From the perspective of the relevant state agencies, the import idea of ​​high-speed rail bearings is still very strong. But for the domestic industry, we must always do everything possible to innovate." Wang Quanqing told reporters.
In the first three years of the "Eleventh Five-Year Plan" only, 488 kinds of supporting bearings for 90 major equipments in 13 key areas of the country's 16 key areas were developed. Among them, the wind turbine generator yaw pitch bearing, deep well ultra-deep well oil drilling machine bearing, heavy-load railway wagon bearing, YRT series CNC machine tool spindle bearings have been realized in China.
It is understood that under the support of the Ministry of Science and Technology's Science and Technology Support Program, Luoyang Axis Research Co., Ltd. (reformed enterprise of Luoyang Bearing Research Institute) will take the lead, and Luoyang LYC, Hazaw, Chengdu Kehua and other enterprises as well as Henan Science and Technology University and Chongqing Universities such as universities have carried out the research and development of high-speed iron bearings with a speed of 350 kilometers per hour. They have developed the first set of samples and conducted some performance tests.
According to Wang Lushun, Chairman of Wazhou Group, after major breakthroughs in basic research, manufacturing processes and inspection processes, "through such design and manufacturing technology and product technology advancement, alternative imports will be achieved within three years."
In October last year, He Huawu, academician of the Chinese Academy of Engineering and chief engineer of the Ministry of Railways pointed out that after the high-speed train with a speed of 380 kilometers per hour went offline, China has begun to develop a high-speed train system with a speed of 500 kilometers per hour. This means that the development and industrialization of high-end bearings need to be further pursued during the "12th Five-Year Plan" period.
2 needles sewing machine, double needle sewing machine, automatic dual needle sewing machine, dual needle sewing machine, double color sewing machine