During the "Eleventh Five-Year Plan" period, Chaochai's staff overcome various difficulties, speed up product improvement and new product development, innovate marketing, conduct in-depth QCD improvement activities, and vigorously improve the quality, cost, and delivery date, and optimize the transformation. Machine production line, continuous improvement of production and manufacturing capabilities, and basic guarantee for the company's production and sales to maintain stable and rapid growth. In 2010, Chaochai's production and sales both exceeded 220,000 units, achieving sales revenue of more than 2.4 billion yuan, creating new Performance. At present, the company's industry status has been further consolidated and upgraded; the company has made significant progress in strategic restructuring and reorganization; its operating quality has continued to improve; its new business has grown rapidly; major breakthroughs have been made in its ability to independently innovate; the company's institutional mechanisms have been further optimized, its management foundation has become more solid, and its development momentum has been further enhanced.
In 2011, Chaochai identified a production and sales target of more than 200,000 units and achieved sales revenue of more than 2.4 billion yuan. In the end of the 12th Five-Year Plan, 300,000 units were sold and sold, and sales revenue was 6.9 billion yuan. To this end, Chaochao Zhaozhuang, the general manager of Chaochai, requested to focus on the following tasks in 2011: First, it is necessary to greatly improve product quality; Second, it is necessary to effectively reduce costs; Third, actively develop domestic and foreign markets; Fourth, leading research and development is more marketable. Road products; fifth is to strengthen management, lean manufacturing. Zhao said that 2011 is the first year of the "Twelfth Five-Year Plan". Good macroeconomic conditions and market environment have created a relatively favorable development space for us, but it also faces many unpredictable difficulties and challenges. A lot of work needs to continue to work hard. Zhao always believes that as long as all the cadres and employees are united in their thinking, strengthen their confidence, and work hard, Zarqai's business will be able to grow stronger and stronger, employees' welfare will be more protected, and the future of Zhachai will be even better.
Wire Rope
Tower Crane wire rope is usually used on the tower crane hoisting mechanism, trolleying (luffing) mechanism and slewing mechanism. BQ could provide all models of Wire Rope for Tower Crane. The diameter of tower crane steel wire rope could be 12mm, 14mm, 16mm, 18mm, 20mm, 22mm. 16mm Wire Rope could be used for 12-14 ton Tower Crane. 18mm Steel Wire Rope could be used for 16ton tower crane. Tower crane wire rope could be galvanized wire rope, Non-Rotating Wire Rope, bright wire rope, stainless steel wire rope. Wire Rope Wedge is used for fixing or connecting the wire rope of tower crane.
BQ supplying all kinds of tower crane spare parts, including tower crane Steel Structure( Mast Section , fixing angles, Anchorage Frame, jib section,etc.), tower crane mechanisms, Tower Crane Cabin, power cable, Electric Parts, pulleys, gears, and so on.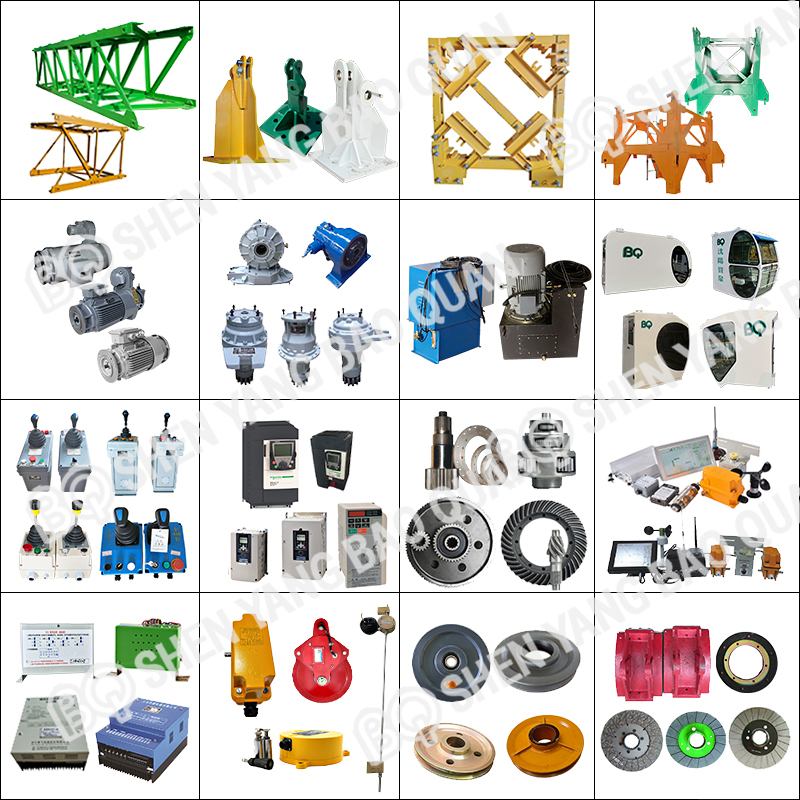 Steel Wire Rope,Tower Crane Wire Rope,Galvanized Wire Rope,Stainless Steel Wire Rope,Steel Rope
SHEN YANG BAOQUAN BUSINESS CO., LTD , https://www.sytoplesstowercrane.com